Saturday, January 29, 2005
The Umbrella as Competitive Advantage
Its just not for keeping you dry any more. This from Cory Doctorow of BoingBoing:
HOWTO kick even more ass with an umbrella :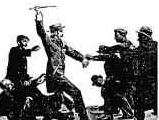 Link
[via Boing Boing]
|
Tuesday, January 18, 2005
Dazed and Confused - Tech Marketers Numb Their Targets.
When your failings appear in an AP story, its time to change your ways
Link
. Of course it adds fuel to the fire for David Weinbergers relentless Cluetrain Express, this time in skit format
Link
. Send this to your favorite tech marketer, make the world a better place to live.
|
Friday, January 07, 2005
Krispy Kreme Stuffs the Channel - Who's going to eat the inventory?
Channel stuffing has never been a good idea. Make the numbers for a quarter, then spend the next few months digging out, just in time to stuff. Buzz and evangelical customers made Krispy Kreme a darling a while back (remember the long drive thru lines?). Where have all the customers gone?!
Link
|
First Class for $200k...Better get a free massage in the price!
Time to sign up for your ride to space in SpaceShipTwo. It may be a 10 year wait, but that is less than a private trip on the Colorado thru the Grand Canyon. Here's the latest (from the BBC) on the Branson/Rutan plan you put regular folks in space
Link
.
Meanwhile, if you are ready to sign up, visit the Virgin Galactic website....they are not asking for a deposit YET.
Link
|
Monday, January 03, 2005
Remember the Cluetrain, or Can I Borrow Your Pen to Open my Bike Lock?
Thesis 1 was "Markets are conversations".
Skip forward to the cover article on this week's fortune re: the importance of NOT ignoring Bloggers
Link
. Inside is a great example of the impact of blogger wildfire highlighting the weakness of Krytonite's bike lock (forget the key, just use a handy Bic pen). Blog readership of the issue when non-linear in under a week, after which Kryptonite announced a replacement program (subtracting $10m from the bottom line).
Why are the blogs are so important....its people listening to other PEOPLE; NOT PR folks, not marketers, not executives, not sales folks. People.
In case you need a refresher you can visit the Cluetrain Manifesto
Link
. Funny how some of the key authors of the Manifesto are also leading Bloggers.......
|